He's had No. 1 singles, platinum and gold albums, has toured the world and has appeared on songs with Lil Wayne, Ludacris, Nicki Minaj, R Kelly, 50 Cents among many others. Eight years into a remarkable solo career, Bobby V (formerly Bobby Valentino) has experienced the best the music industry has to offer while working with some of the game's elite. From virtually any angle, Bobby V's career seems to be heaven sent. Bobby scored a hit when he was only 15 years old as a member of the 90s R&B group Mista, with "Blackberry Molasses," a tune produced by Organized Noize (OutKast, TLC) that became a Top 10 R&B hit. Even with this success, Mista dissolved. Bobby V then enrolled at Clark Atlanta University, where he graduated with a communications degree and developed a keen business sense. Reintroduced in 2005 with "Slow Down," Bobby V quickly reignited his career. His debut solo album, 2005's Disturbing Tha Peace Presents Bobby Valentino, earned the No. 1 spot on Billboard's Top R&B/Hip-Hop Albums chart. He then sang the chorus on Ludacris' hit "Pimpin' All over the World" and toured in 2005 on the blockbuster Scream tour. In 2007, Bobby V returned with Special Occasion, which featured the Timbaland produced hit "Anonymous," and Rodney Jerkins produced "Turn the Page" His third album, 2009's The Rebirth, featured the hit single "Beep" and was the first album released on his own Blu Kolla Dreams imprint, which debuted at no. 1 on the Billboard Hip Hop and R&B chart. Since then Bobby V has released a total of 5 albums & has continued to have huge mainstream success. But success hasn't stopped Bobby from giving back to those who are less fortunate. Through his Bobby V Foundation, the singer encourages people to value and to pursue higher education. "I had the opportunity to attend college and graduate. That accomplishment is something I am very proud of and one nobody can take away from me. Through my foundation I want to give kids the same opportunity." With a new feature film and music soundtrack entitled "Hollywood Hearts" in the works, Bobby V has decided to step outside the box to create some of his best work. The lead single also titled "Hollywood Hearts" has quickly become a fan favorite and is impacting at radio stations across the country. With a string of hit singles and albums, a burgeoning record label and a charitable foundation inspiring the youth, Bobby V continues to grind like it's his last day.
Contact for

Bobby V
http://www.justbobby.com/
Don't Miss

Bobby V Interview on

(Brunch In The Basement with Javonne )

On Saturday, Oct 8th, 2016

11 AM to 1 PM.

www.BlogTalkRadio.com/wjbr

or call

(347) -996 – 5394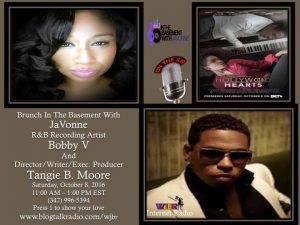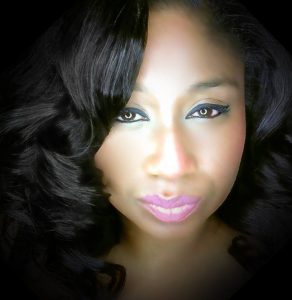 Tangie B

Moore the Director, writer and Executive Producer of the film.
Hollywood Hearts Movie premieres on Oct. 8th @8P/7C on BET


Starring: Bobby V, Carl Payne, DC Young Fly, Benzino & Introducing Walnette Santiago




Directed By: Tangie B. Moore




Produced By: Tier 2 Films In Association with Blu Kolla Dreams.