Kurtis Blow is an American rapper and record producer.  He is the first commercially successful rapper and the first to sign with a major record label.  "The Breaks", a single from his 1980 debut album, is the first certified gold record rap song. Throughout his career he has released 15 albums and is currently an ordained minister.
Kurtis Blow

has been instrumental in raising up a generation of MC's, and he will soon carry the torch for hip hop music into new arenas.
In 1979, at the age of twenty, Kurtis Blow became the first Rapper to be signed by a major label.  Mercury released "Christmas Rappin," and it sold over 400,000 copies and it became an annual classic.  Its gold follow‑up "The Breaks" helped ignite a still‑spreading international "Rap Attack." He released 10 Albums over 11 years — The first entitled "Kurtis Blow", his full length debut and his second, a Top 50 Pop Album "Deuce," a big hit across Europe; "Party Time" which featured a pioneering fusion of Rap and Go‑Go; "Ego Trip," which includes the hits "8 Million Stories", "AJ", and "Basketball" and in 1985, "America."  "America's video innovation received a MTV Monitor Award.  From this album, the song "If I Ruled the World" became a top 5 hit on Billboard's R & B chart.  Columbia/Sony recording artist Nas debuted at # 1 on the Billboard's Pop Album chart with a cover of the song in 1997.
He was honored to coordinate "King Holiday", along with Dexter Scott King, a song to celebrate Dr. Martin Luther King's Birthday.  The Mercury/Polygram single co‑produced by Kurtis Blow includes the collaborative efforts of Whitney Houston, New Edition, Stephanie Mills, El Debarge, James "JT" Taylor of Kool & the Gang, The Fat Boys and Run DMC among others.  It has become an annual Holiday Classic.
Besides his own work, Kurtis has been responsible for Rap hits by The Fat Boys and Run DMC.  Run began his career billed as "The son of Kurtis Blow."  Love Bug Starski, Sweet Gee, Dr. Jekyll and Mr. Hyde, Full Force, Russell Simmons and Wyclef Jean all have been produced or have worked with Blow in the past.  Additionally former label mates Rene & Angela had their chart topping debut "Save Your Love for # 1" gift wrapped by Kurtis Blow.
Kurtis Blow's

acting performances and music coordination in several movies including Leon Kennedy's "Cry of the City" and the hit film "Krush Groove" has won him continual praise.  The New York Daily News called his cinematic works "Noteworthy, A Dynamic Presence."  As host and co‑producer for "Das Leben Amerikanischer Gangs" an international film production's focus on the West Coast gang scene, Kurtis Blow crossed international waters for inner city justice (1995).  As host and associate producer for "Rhyme and Reason" a Miramax film, KB gives an informative account of the present status of Hip‑Hop (1998). "The History Of Rap" Produced and written by Kurtis, issoon coming to a theatre near you.
Kurtis Blow

speaks out emphatically against racism.  His raps, with cinematic sensibilities, open the world's eyes and ears to inner city truth as much as they celebrate the purer pleasure of modern living.  He was also an active participant in the blistering Artist Against Apartheid Record "Sun City."  Kurtis Blow speaks out emphatically against Alcohol and Drugs.  Kurtis' innate ability to reach people is also evident in his selection as spokesperson for The National Ad Counsel.  He is an integral part of its youth campaign and can be seen and heard in print, radio and television nationwide as the first to "Say No To Drugs."   He has also been involved with Phoenix House of California, a substance abuse organization with Black community emphasis.
In 1995 Kurtis Blow started working on-air in radio. Power 106 the # 1 CHR. Radio station in Southern California had Kurtis Blow on-air Sunday nights with The Old School Show, a highly rated specialty show that features Blow playing the hits from the past. The show was rated # 1 for 4 years. Kurtis is now working for Sirius Satellite Radio on the Classic Old School Hip Hop station Backspin 43.
In 1996 Kurtis Blow was featured in a Hip Hop display at the Rock-N-Roll Hall of Fame.  The display still stands.  In 1998 the group Next released "Too Close," in which the music of "Christmas Rap" was sampled for the #1 pop songs background track.  "Too Close" was the longest running #1 song of 1998 for Billboards Pop Chart.  ASCAP honored Blow and Next at a gala affair on May 26, 1999. In 2002 after 9/11, Kurtis went overseas to the Middle East to tour the Armed Forces Bases for 17 shows to bring a little bit of back home to the troops stationed there. The tour consisted of shows in Afghanistan, Pakistan, Saudi Arabia, Krgystan, Jordan, Bahrain, Kuwait and Oman "It was a tour I will never forget," Blow says, "I did the Bob Hope thing."
Kurtis Blow

helped legitimize Hip Hop, and now, he intends to help redeem it.  Having made a deep commitment to the ways and teachings of Jesus Christ, Kurtis has been successful in attending Ministry classes at NYACK College.  As Co-founder of the Hip Hop Church, Kurtis serves as rapper, DJ and worship leader and now licensed Minister.    There are several Hip Hop Churches around the world and Kurtis is involved with many of them.  "Don't get it twisted, God has always existed," says Kurtis, "and in terms of these young people out here who love God but do not like to go to church, only Hip Hop can bring them back to the church." Kurtis became an ordained Minister of the Gospels of our Lord and Savior, Jesus Christ on August 16th 2009.
Contact

for Kurtis Blow:

 

Kurtblow.com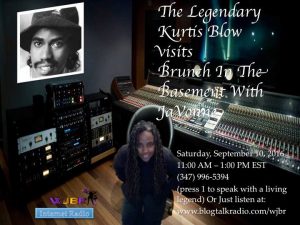 Don't Miss

Kurtis Blow Interview

on
(Brunch In The Basement with Javonne )
On Saturday, 

Sept 10th, 2016 11am to 1pm

.
www.BlogTalkRadio.com/wjbr

 

or call

(347) -996 – 5394